Leigh Stafford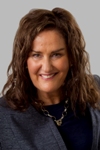 Managing Director
M.Ed. (Dist.); Dip Tch (NZ); T.T.C. (NZ)
Vic.Inst.Tch.Reg (VIC); MBTI® Steps 1&2 Certified
Leigh established Leading Matters in 2002 with a unique and dynamic vision; To help business leaders find out what really matters to their customers and gain the insight needed for strategic improvement, earn loyalty and a competitive advantage. As the Managing Director, and lead conversational interview specialist, Leigh has conducted hundreds of in-depth client discussion based interviews and she is known for her three 'P's – Passion, Perception and Persistence.
Since 2002, client participation in Leading Matters interview processes proudly stands at 99%. Leigh attributes this success to a conversational based interview style where people quickly realize that their feedback is sincerely and genuinely appreciated. Most of all, Leigh's philosophy is grounded in the belief that when people are given the opportunity to contribute their perspectives they become engaged with your business and want to help you succeed. She believes this is two-way partnership in action and is the foundation for enhancing relationships and ultimately to earning loyalty.
Developing loyal partnerships is at the core of Leigh's commitment. Her belief is that loyal partnerships are developed in business in the same way that successful partnerships in personal lives. They start with knowing, liking and are built on mutual respect that's earned through trust.
With comprehensive experiences, challenges and opportunities in both business and education in Australia and New Zealand, Leigh enjoys her "partnership approach" to work and life.
When not at work, Leigh enjoys being with family and friends, entertaining, spending time in the country, motorcycle touring, being creative, singing, movies and theatre. She says her past life included competitive tennis, fencing and hockey and she's still mad about rugby.
As the Managing Director of Leading Matters, Leigh is joined by Jeff Travers as Director of Consulting, Benita Keatley, Business Co-ordinator and David Stafford, our Virtual Head of Technology in a shared mission: To provide the highest quality professional services to business leaders and teams who are in pursuit of Loyalty through Partnership.