Customer Retention Health Check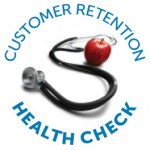 CONGRATULATIONS!
You are just one-step away from finding out how certain you can be that your customers will stay with you and never want to leave.
What is the Customer Retention Health Check?
It is our professional assessment of your business's existing customer retention and loyalty strategies.
Please note: The Customer Retention Health Check is confidential, obligation-free and complimentary for qualifying businesses.
How do you do it?
• We interview you over the phone to find out about the critical strategic aspects of retention and loyalty as they relate to you and your business. The interview takes about 10 minutes.
What do I get?
• An obligation free, confidential written report containing an analysis of our findings
• This report includes the identification of your business's strengths and any opportunities for improvement
• Useful tips, hints and practical information are included for your immediate use
• Strategies are provided to help maximise customer retention and loyalty in your business.
How much does it cost?
• The Customer Retention Health Check is valued at $975, plus GST.
• For qualifying businesses, this offer is complimentary.
How do I know if I qualify?
1. Is your business B2B?
2. Have you a base, HQ or office located in Australia?
BOOK NOW!  To Request Your Customer Retention Health Check: Contact Us and enter the details required. We'll call you within the next few days and confirm that your business qualifies for a complimentary Customer Retention Health Check. We will arrange a suitable interview time with you when we call.