David Stafford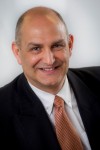 Virtual Head of Technology, (V. HOT)
M.Sc. (Data Encryption & Computer Security); B.Sc. (Computer Science)
David Stafford is the owner and founder of D.A. Stafford & Associates Pty Ltd, a boutique technology consultancy he formed in 1999 to provide professional IT Management services to the SME business sector.
As our Virtual HOT (Head of Technology), David ensures that our company is equipped with both the technology and expertise to ensure our critical data is 100% safe and our equipment continues to meet our needs. David's contribution via his business strategic acumen together with an outstanding IT skills and knowledge is highly valued and integral to our success. It's no co-incidence that Leigh and David share the same surname since David is the brother of the Managing Director and has been a champion of Leading Matters since inception.
David is highly regarded for his expertise as a technology consultant and strategist for business. His extensive knowledge, skills and experience enable organizations to make the best decisions about their technology needs and requirements from both macro and micro perspectives. That's largely because his advice is only given once he has a full understanding of his client's short, medium and long term requirements which enables them to make fully informed and cost-effective decisions in line with their business goals.
With clients ranging from small professional practices to internationally recognized brands, David notes that they all share the same attitude towards IT – they know that it is a critical component of their business and that they can't afford for it to fail. David's company ensures that their investment in technology is appropriate, effective and contributes to their business success.
David has an extensive background in Information Technology gained over 25 years in the industry and has held senior positions in software houses and multi-national organizations. His background includes applications development and software engineering for manufacturing and professional services companies, where he led a number of teams in large-scale software projects, as well as General IT and Infrastructure Management.
When not at work, David enjoys spending time with his wife, their daughter, family and friends. He specialises in BBQs, enjoys rugby, car racing, being creative, pretty much anything requiring problem solving, can sing and is an accomplished pianist and jazz enthusiast.